My Contribution to The Long Tail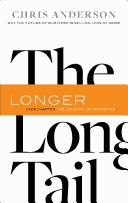 "Anyone who cares about media – indeed, anyone who cares about our society and where it's going – must read this book" – Robert Glaser, CEO, RealNetworks. "Anderson's insights … continue to influence Google's strategic thinking in a profound way." – Eric Schmidt, CEO, Google. These are just two of the bragging rights printed in the back of the book. In my opinion – dare I add it in the same paragraph as the prior two – his insights are, well, insightful indeed. Since I joined the blogosphere I have been trying to explain what has been the catalyst for all this seemingly nonsensical blogging and niche media producing. In an eloquent production Anderson managed to put it in very simple yet profound terms.

The Digital revolution has done more to society than making information available within a couple of keystrokes. Democratization of the tools of production (jeez, sounds like x-soviet propaganda poster), Democratization of the tools of distribution (ditto), and swifter connections between supply and demand have dramatically changed what once was a hit driven economy to an economy of lots and lots of niches. I profoundly agree, although I have to say that we still need a lot more work on the "connections between supply and demand".
Chris Anderson, editor in chief of Wired magazine and and author of The Long Tail Blog explains in what I believe is some of the best business writing there is, the economic distribution of media production, the head, and the tail. And, as he admits, participates in both taking advantage of the tools and technologies that are available to all of us these days. The insights are extremely good and the analysis even better.
I have to say, though, that the book suffers from repetitiveness surprising for an editor and blogger of his caliber. It made me think that in his effort to produce a hit (which he did) he had to meet a number of pages goal so you get a bank for you buck. What saves the book is Anderson's mastery of the craft. He is indeed an extremely good writer. Even when I had heard the story of the 4 million songs in Rhapsody maybe for the fourth time half way through the book , he managed to keep me going and I did not skip to the "meat of the chapter" like I sometimes (Ok usually) do with other business books.
Definitely a good read, insightful and highly recommended. I can't wait to read Free (I did not mean "read for free", although that wouldn't be bad either)
Enjoy.
Comments: