It is not about the gadget
Reading through my June 2009 Bicycling magazine – which I typically do cover to cover, ads and all – the article from the editor Loren Mooney caught my eye.  The author does a great piece on how keeping logs has changed and the the amount of data available for the casual rider thanks to multiple cool gadgets in the market.  Technology combined with biking, what can go wrong?  I then ventured to find my first logs too. Although I will not reveal the content, I found out that keeping a log by hand did not work for me not only because I was not too good, but because I was – actually still am – lazy too.  However, towards the end of 2008 I snatched the Garmin Forerunner 305® on a huge sell that couldn't resist.  Given my definition of good weather, I have been able to try it out a couple of times only and I now realize this is the only real way to create a log.
The Garmin Training Center® logs your heart rate, the route you followed, instantaneous speed throughout the ride, pace, elevation, and draws great graphs with all the data superimposed.    Besides the embarrassing realization that I am out of shape, maybe beyond repair, the visual of your ride makes you analyze what you did.
If you are like me and ride the same route often, you  identify  the weak spots in it and plan for them.  You see them on the map – the speed decreases, heart rate went up and it isn't really that inclined – so you can plan your attack next time.  Check the Edge 705 with power sensor, even though it is more expensive than my bike and it will overload me with data, I want it!
I know what you're thinking, will that make me a better rider?  Of course … not.  Remember what Lance said: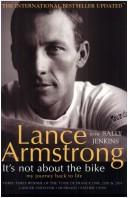 It is probably not about the gadget either.  Or is it?  My theory with these gadgets is that they really help you become a better biker not because of the analysis of the data that help you improve your training, but because geeks like me look forward to the data and that makes me ride more.
Enjoy.
Comments: