Last year in June I wrote a piece about Research in Motion (Nasdaq:RIMM), maker of the Blackberry.  At that point the stock closed @ $76.55.  After a 42% drop is it probably time to cover our shorts to avoid a repeat of Palm?  After the latest results release, RIM showed progress on earnings, but decrease subscriber adds and more importantly is draining cash.  Being acquired seems to be their best option.  Not that there are dozens of companies with billions to spare on an ailing smartphone maker.  But it only takes one; and there is one who is also struggling to get a piece of the smartphone market: our beloved Microsoft.
Now why would Microsoft pay big bucks (really big bucks) for RIM only to combine a decreasing market share with an almost non-existent one, may I ask? I don't seem to find the right answer.  I struggle with the idea on any synergy that the merger will bring.  RIM needs to invest to bring products up to par with Android and iOS based ones.  Their Acquisition of Torch Mobile (who brought you the Torch) was an attempt to do that but it seems to fall short: it is not a wow phone.  Even if corporate fans buy them, we've all seen Androids and iPhones show up in the enterprise and for the most part successful using them for the same applications.
At a first glance, the synergy seems to be there.  RIM's corporate fans and huge installed base of BES – which happens to mobilize Microsoft Exchange for the most part – and Microsoft has been unsuccessful in bringing a decent smartphone to the party with their Windows Mobile, Windows Phone, and other inroads, but understand well how to sell to the average consumer.  Add a bunch of cash to mix and it is seemingly a marriage made in heaven. But not so fast, my fellow reader (singular)!  RIM's market cap is in the neighborhood of $25B plus the typical premiums tech deals get may drain all of Microsoft's cash.  Although it seems like a better investment than dividends or buying back stock it will probably not leave enough room to invest what it takes to win in this market.
Both companies need a miracle in the smartphone space.  But Microsoft has other legs in the stool, albeit declining too but at a slower pace. And most likely want to conserve some cash to maintain Windows and Office in the spot they have as well as their Bing and Xbox franchises.   Whereas RIM doesn't have pagers anymore and more and more viable alternative devices are popping up in the market and making their way to the enterprise.  So while RIM passes the Torch (pun intended), Microsoft passed on the Kin and both are being left behind in the race.
Now, a 42% drop is good to cover our short positions because you don't want to be that greedy, especially after what happened to Palm (which I predicted the exact opposite).  Nobody will blame you for covering in the vicinity of $45.  But, if you don't believe in Microsoft's acquisition:  short, short away till the cows come home or the stock dips another few bucks!
Enjoy.
It is all over the news that Apple (AAPL) surpassed Microsoft (MSFT) market capitalization last week becoming the largest tech company from that metric perspective.  The question is which one is more expensive?
Assume you have $500 to invest and you are trying to decide which one is a better bet.  Let's see.  On June 10th, Microsoft opened near $25 and Apple near $250.  So you could buy 20 MSFT or 2 AAPL.  So what are you really buying with your hard earned bucks?  Based on the prior 12 months and latest financial statements these are the numbers (rounded):
AAPL:  revenue $51B, Net Income $10.7B, Cash and Short term investments $23B, and a market cap of $227B (908 M outstanding shares).
MSFT: revenue $59B, Net Income $17.2B, Cash and ST investments $39B with a market cap of $218B (8720 M outstanding shares).
So if you buy 2 shares of Apple your $500 buy you $112 in revenue, $23.50 in NI, and $50.70 in cash.  Microsoft's 20 shares are $135.3 in revenue, $39.4 in NI, and $89.4 in cash.  In other words, picking one metric, let's say cash,  Microsoft is trading at 5.6 times cash, Apple at 9.8 times cash.  That is 1.76 times more expensive!
Now, let me throw Google (GOOG) into the mix, just for kicks:  Google was trading at around $480 with a market cap of $115B (240M shares).  Revenues of $25B, Net Income of $7.1B, Cash $26B.  You can buy 1.04 GOOG, meaning $108 in revenue, $30.8 NI, and an impressive $113 in cash (4.44 times cash).
So you tell me which one is more expensive?  I know, I know, this is based on past results and does not factor in growth potential, investor's sentiment, cult followers, and other factors.  But for the same reason it clearly paints a picture of which company is more favored by investors and which one is less.
Consider one last point:  Microsoft hit an all time high of $58.37 on December 31, 1999, Google $724.80 on December 14, 2007, and Apple hit $272.40 on April 26, 2010.  Investor's favoritism has been shifting over time.  What's next for all these three?  If I knew, I wouldn't be blogging about it but it is definitely interesting behavior of 3 of the most traded stocks.
Quoting Scott Adams, the creator of Dilbert, "I remind you to ignore me".  By no means this is an endorsment to invest in any of these companies.  You, my fellow reader (singular) make your own judgment.
Enjoy.
In the shadow of Apple's kick-butt quarter, AT&T reported results that made the market yawn.  "Yeah, yeah, you sold 2.7 million new iPhones in the quarter, added 1.9 million subscribers for a total of 87 million (1 in every 3.5 US residents uses AT&T), reduced churn, and increased ARPU (average revenue per unit) 3.9%,  and a 30% increase in data revenue; so what?" is essentially what Wall Street said.  I don't know about you, but a company that still manages these numbers in a market that is essentially 100% penetrated is impressive – sure, a 6%+ dividend helps .  But the really impressive, albeit insignificant number to this humble blogger is the "connected devices" increase of 1.1 million to a total of 5.8 million.
AT&T has close to 6 million non-phone devices on the network.  Now why is that even relevant, my fellow reader (singular)?  Simply because there are a lot more non-phone devices and a lot more things out there that need to be connected than there are phones or people.  Yes, they may not be sexy, play music, browse the web, or even wash your car, but they essentially do everything else.  Beyond the obvious (Kindles, iPads, etc.) these things are everywhere and in desperate need to be connected.
Take your car, for example.  If you have Onstar it's already connected (not with AT&T) so you know some possible apps.  But imagine a world in which you go to Google Maps, plan a route and squirt it into your car's GPS!  Or simply download the movie you want your kids to watch from your home DVR.  Your electric meter one day will be connected to so you can monitor your consumption real time (Ok, Ok, i don't know why would I want to do that either, but you can).  Every thing out there can be connected and can benefit from the internet.  But where things really start changing is with Enterprise Applications.
Next time you receive a FedEx or UPS package go to the web  immediately after you sign for it and voila it says received, in real time because the device where you signed is connected.  The copier service personnel can consult schematics and order parts in real time when his/her machines are connected. Or the copier can ping someone when it's running out of toner; the end of the  empty copiers or useless service visits.  Making every device a smart device has endless  applications that are starting to look affordable.  Ma Bell's humble cellular non-phone numbers are starting to show growth.  The ubiquitously  connected world is getting started.  Make sure you are ready for it.
Enjoy.
I was doing my stock research last night when I bumped into Google Domestic Trends. I know it is not new at all and it is really one of the things Google does best: manipulate data and make some sense of it. It cought my attention, though since one of the cardinal rules of stock trading is pick the right sector.
The way it works, it appears, is that Google (no surprise) keeps track of certain keyword searches and categorizes them into sectors of the economy. Then they create a chart that maps the trend of search, theory being that the search trend can be mapped to the sectors' growth trend. For example. If you look at unemployment for example you will see the chart "hockey-stick" up towards the end of 2008. Nice! The value is normalized to 2004, so the chart says that unemployment searches have tripled since then. Has unemployment tripled too? Maybe not quite, but the trend is pretty clear, though.
Continue …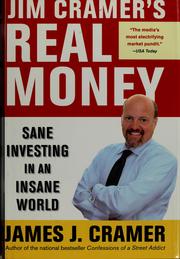 Cramer writes as he speaks: a little too cocky, self confident, straightforward, candid, and with a couple of "insider" jokes that make you think he is the only one that finds them funny. It is a great flight book (that is a book to read on a boring 6 hour flight). That being said, the book is a good collection of sane (yes, I said sane) advices for the novice and no so novice investor. His stock-picking rules are a good organized way to summarize the basics of disciplined investing / trading. I have two pet peeves on his recommendations: the way he defines diversification (which is not exclusive of Mr. Cramer), and the 5 stock limit for part time investors. Let me explain.