August 21, 2009 by
lfllmg
·
Comments Off

on My Contribution to The Long Tail
Filed under:
Arts
,
Business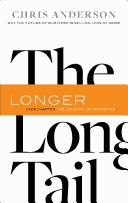 "Anyone who cares about media – indeed, anyone who cares about our society and where it's going – must read this book" – Robert Glaser, CEO, RealNetworks. "Anderson's insights … continue to influence Google's strategic thinking in a profound way." – Eric Schmidt, CEO, Google. These are just two of the bragging rights printed in the back of the book. In my opinion – dare I add it in the same paragraph as the prior two – his insights are, well, insightful indeed. Since I joined the blogosphere I have been trying to explain what has been the catalyst for all this seemingly nonsensical blogging and niche media producing. In an eloquent production Anderson managed to put it in very simple yet profound terms.
Continue …
"If" you hear our "Sorrow" it is because you chose "A Great Day for Freedom" to start "Learning to Fly" and perform "The Great Gig in the Sky" in "Any Colour You Like". "One of These Days" we'll "Have a Cigar" and "Keep Talking" for a long "Time" until we are "Lost for Words" and not "Obscured by Clouds". You are "One of the Few" for which we had "High Hopes". For now "The Show Must Go On" "Outside The Wall". "Shine on you Crazy Diamond". I'll see you in "The Final Cut" for "The Happiest Days of Our Lives".
"Did, did, did, did you see the frightened ones?
Did, did, did, did you hear the falling bombs?
Did, did, did, did you ever wonder why we had to run for shelter when the
promise of a brave new world unfurled beneath a clear blue sky?
Did, did, did, did you see the frightened ones?
Did, did, did, did you hear the falling bombs?
The flames are all gone, but the pain lingers on.
Goodbye, blue sky
Goodbye, blue sky.
Goodbye.
Goodbye.
Goodbye."
You will be missed.
Those of us who grew up watching Flipper understand the transformation that the dolphin – human relationship has had over these few years.  The second most intelligent creature on Earth (some actually say the most) became an object of admiration and most water zoo-parks around the world have some  kind of cetacean show.  I never knew or bother to ask where do all these dolphins come from?  This weekend I saw The Cove, the audience award-winning film from Sundance 2009.  A documentary that answers that question with a magnificent movie experience.
Like some of the critics say:  "This movie is like Flipper meets The Bourne Identity."  The movie has technology, espionage, real characters, good and bad guys, and a greatly executed plot all behind a truth-telling documentary with an eco-friendly topic.  Louis Psihoyos and his crew follow Rick O'Barry, the former Flipper trainer to Taiji, Japan, a town that houses the Whale Museum and presents itself as a dolphin loving town to the rest of Japan and the world.
O'Barry found its dirty little secret (literally dirty and not so little) and has dedicated his life to stop  it by making the world know what's going on in Taiji hidden from most of the the world including the Japanese population.   O'Barry recognizes his influence in the change of the way we see dolphins and he understands better than most what captivity does to these animals.  Unlike most of us "inactivists" he has a motivation, the passion, and the knowledge to do something about it.  Check out the trailer, go watch the movie, and join his quest.   And then think twice before you go to a dolphin show again.
Fisher Stevens, Louie Psihoyos, Richard O'Barry, Alec Baldwin in Guild Hall, East Hampton, NY
"They call him Flipper, Flipper, faster than lightning,
No-one you see, is smarter than he,
And we know Flipper lives in a world full of wonder,
Lying there under, under the sea!
Everyone loves the king of the sea,
Ever so kind and gentle is he,
Tricks he will do when children appear,
And how they laugh when he's near!
They call him Flipper, Flipper, faster than lightning,
No-one you see, is smarter than he,
And we know Flipper lives in a world full of wonder,
Lying there under, under the sea!"
Sure, there maybe other critical things to fix with a higher priority, but this one is actually very easy to support. Watch the movie, and do not go to any other cetacean show. Pretty simple right? By the way, do not make reservations for a sushi dinner after the movie. Watch it and you'll understand.
Enjoy.
Johannes Brahms (May 7, 1833 – April 3, 1897) , composer and pianist, was typically regarded as one of the leading musicians of the Romantic period. He is sometimes grouped with Johann Sebastian Bach and Ludwig van Beethoven as one of the Three Bs.  Moreover he is considered the successor of the latter.  In fact some have insulted him by calling his Symphony No.1 in C minor, Op. 68, as "Beethoven's 10th."  Of course if someone suggested Beethoven's First as Mozart's 42nd he will find himself tied at a stake of fresh pine with a little bonfire starting underneath.
It is undeniable that Brahms was influenced by Beethoven.  But who has not been influenced by predecessors especially when they are successful?  But considering his First as mere follow up work is not only insulting but insane.  Brahms  produced what this humble listener considers the best piece of music ever written.  We had to wait for the next generation of composers and the next century from what was then the Russian Empire or the abandonment of tonality to produce something worth keeping in the same play list with it.   But so far nothing in this genre has been produced to follow the fourth movement.
Lets first deal with the concept of romanticism.  From perspective of the period when he lived  in, of course Brahms was the ultimate romantic.  This movement is typically considered between 1815 and 1910, very different from the other art forms romantic periods.  Our friend, Johannes worked smack in the middle of that period. In music, romanticism does not refer to the common definition that some truth can be obtain by emotions, not only from axioms. Romantic music referred more to its ability to infuse passion throughout the composition by not preparing the listener to what comes next, but rather explode in a combination of themes.  The innovation was in the use of range, maybe even the abuse of certain instruments, and transitions within themes and movements while maintaining a unity in the composition.   Music became narrative as opposed to chromatic, like in the classic period. Tonality and harmony became its preferred language.
When you listen to the First you get it much more than with any other piece.  How the first movement builds the theme,  introduces the characters, and sets the stage for the main plot.  The second movements presents the conflict.  Some characters are not seen anymore and the mood goes on.  The third keeps building suspense and goes quickly maintaining its link to the other two.
  And then comes the magnificent fourth.  The violins break the monotony and make you jump to the edge of the seat. The suspense grows, and grows.  The characters from the first movement come back and kill the ones from the second and third.  But nothing can prepare you for the finale, besides I don't want to spoil it.
Columbia University has a fantastic free recording available here right, listed right after Beethoven's Seventh for nothing else than alphabetical reasons.  My personal favorite is Karajan's interpretation with the Berlin PO as part of the 4 Symphony collection (ASN: B000007ODY).
I like to think of Beethoven's Ninth as Brahms' Zeroth, but then again why will that be any more flattering to either one of them.
Enjoy.
"Life is too short to remain unnoticed."
Real walls dressed in real blue, black, or white
set the surreal background.
Words hang all over them,
words of a mastermind bordering on insanity,
a madman that is not mad.
Words speaking of temptation,
art, beauty, power, erotic pleasures, knowledge, life, greed, and desire;
everything and nothing at all.
Words fill the shallow space with Catalan, Spanish, and French
merging the absurd with the brilliance.
"Beauty is nothing but the sum of our perversions."
Faint lights escort the uninvited guests
that toddle in sneakers, backpacks, and jeans.
Their eyes and minds in awe and disbelief
don't know where to stare or where to start.
Picasso, humbly relegated to the cellar
pays his respects for this gift to imagination
that came out of single illusory brain.
Impressionist irreverence of the surreal makes
the clocks of butter under the sun
toll the dreamlike metal.
"Everything alters me but nothing changes me."
The bronze-attired lady, like a goddess without believers
discovers her missing entrails
by opening her drawer breasts.
Right behind her, hollow Isaac Newton appears with no smile
as his character has been replaced by his accomplishments.
An egg headed turtle with a Spanish bean on her back,
wearing a soft and bent armor
crawls through a darkling piece of marble sea.
Horse shaped Napoleon surrounded by bronze ants
is lead by Gargantua and Pantagruel
wearing their technicolor Gala suits.
Elephants that look like ballerinas.
Ballerinas that look like fish
Fish that don't look like fish.
They all dance inside the frames.
The whittled double tip cane of life,
the foundation of air, wine, and Camembert
keeps the concave building from folding onto itself.
At the end, a medley of guns, pesetas, and vaginas
welcomes the last of the dodos
in a passage from the Bible.
Everything lost its ordinary function
and took on an amusing, fantasy-like quality
removed from all rationality.
"When I was five I wanted to be a cook,
at fifteen, a firefighter,
but then, my ambition grew even more than me,
I wanted to be Salvador Dalí."
And he succeeded even beyond his being.
Enjoy.